Buddy LOVE [Long Island, New York]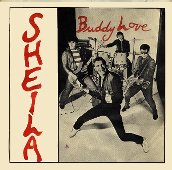 Back in 1980, Buddy Love was the powerpop project of Doug Khazzam and Alan Milman, both typical "Long Island Middle Class Jew Boys" as they stamped themselves. A couple of years before, they had recorded a 7-inch EP, "Stitches in my Head" under the name Alan Milman Sect which is now highly sought-after by punk collectors. After having started out another outfit called ManKazaM, they released another EP called Spankathon (ManKazaM, Alan Milman Sect and Buddy Love shared a good bunch of musicians, some of whom played in all three groups at one time or another). They eventually surfaced with the first Buddy Love lineup as it featured on the impossible-to-find 7" single Sheila, released in 1980 on a private tiny label. Two years later a self-titled LP on Davco Records was out and was their last material officially released, although they went on cutting some demos that never came out until the "Sheila And Other Delights" CD. On the East Coast, as Doug Khazzam can remember, "the Punk and New Wave scene was really happening while musicians were convinced that Power Pop was gonna be the Next Big Thing and the bands around town were all ready to be crowned the new Beatles". Buddy Love played Max's Kansas City, CBGB's, Tramps and a bunch of other clubs around NYC. They used to play on the same bill as Justin Trouble, and opened for The Dead Boys and Squeeze. Doug Khazzam plays now with Gary Feldman (who also played bass in ManKazaM during the "ManKazaM Goes Surfin" period), formerly of Radio City and The Breakaways, in a new band named RC Flyers. Doug Khazzam regularly updates his own site at http://BuddyLoveToday.tripod.com

Doug Khazzam : guitar,vocals (1,2)
Alan Milman : words,music,vocals (1,2)
Joey Kelly : lead vocals (1)
Scott Nevin : bass (1)
Rich Starr : drums,vocals (1)
Brett Rizzo : bass,piano,vocals (2)
Robbie Wise : drums (2)

7" « Sheila » b/w « Party Girl » (USA [Private Label #BL-1] 1980) Led by a carefree saxophone "Sheila" is a great exuberant pop song vitamins-enriched, surfing on the `80s new wave but bursting out with echoes of early `60s wall of sound. It seems that the single got considerable airplay on the Vince Scelsa show on WNEW-FM in New York.
LP « Buddy LOVE » (USA [Davco #1001] 1982) The LP starts out with 50 seconds of "Rock'n'Roll", a Gary Glitter cover, probably to bear in mind that a pop record can't be taken too seriously, and maybe like a deliberate provocation because fun music had been unhip for too long. Next was "Why Can't We Make Believe We're In Love" (which appeared on the Yellow Pills volume 1 CD) that might call to mind a rockiest Joe Jackson. As good as were the opening tracks, the *true* pop songcraft actually appeared on the three next very catchy tracks which followed. "Liar" reveals that Elvis' "This Years Model" was probably (as once admitted Doug Khazzam who appeared on the front cover LP -- with penciled-in mustache!) one of the original template that Buddy Love was stamped out of. In the more powerpop vein were "Dead Ringer" and "Ticket To Your Heart" : imagine the bursting sound of The Knack-meeting-The-Jags mixed with a blend of `60s fun, Nick Lowe's pure pop and late `70s New York beat. Anglophile pop for sure, but worth investigating even 20 years later. A cover of "Who Slapped John?" closed side one. On the flip, "Closer To Heaven", "I Just Wanna Hold You" sounds like Sylvain Sylvain fronting a mod-pop band, accented with Shangri-Las theatrics: an attempt to re-inject fun, innocence and romance in the newborn eighties. "Dream Baby" and the neat glam-ish "Wild Angel" ended up the LP. As Ira Robbins wrote in his Trouser Press review, "Virtually unknown, but great". Yup!
CD « SHEILA AND OTHER DELIGHTS » (USA [Rockville Records ##101]1980-1984/1998) The CD includes both sides of the "Sheila" 7", the entire LP as well as a bunch of demos. I'm tempted to say that the inclusion of the impossible-to-find "Sheila" in there is worth alone the price of admission for lovers of the genre ! Among the numerous bonus tracks, "Something In My Eye", "Love Is A Martial Art", "Liar" (second version) are catchy as hell and on par with Buddy Love best early stuff. According to what Doug Khazzam remembered, Liar (version 2) was recorded after the LP ; the band was working with a new producer and he wanted to try out a few of the older songs and that was one of them. This new version was more geared toward somewhat of a `60s intrumentation (as is confirmed by the inclusion of a Knickerbockers' "Lies" cover) and it definitely sounds great.